Great deals can be had on home and office furniture, especially if you time your shopping right. The guide below can help you plan your purchases for a variety of furniture options.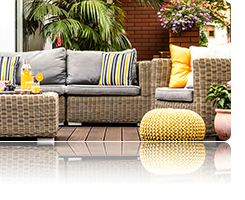 New indoor furniture styles arrive in stores twice each year, in February and August. To make room for these items, stores often price cut their current inventory, including floor models and sample pieces, sometimes dramatically. If you see something you want that's priced higher than you're hoping to spend, the store associate may have permission to negotiate. Don't be afraid to ask.
New outdoor furniture is priced lowest at end-of-season sales between August through October. Since stores typically don't have room to store unsold furniture during the offseason, ask a sales associate when unsold items will be marked down. Then, get ready to pounce as the inventory will likely move quickly.
Office furniture is also deeply discounted twice per year. The first, following Tax Day in April, and again, during the back-to-school season from August to September. Get the most bang for your buck at the end of September, as retailers unload floor-models and overstock.
Used furniture from thrift and consignment stores are at their peak during summer moving season, when a great deal of furniture gets donated. January and February are also prime thrift shopping times as many people vouch to declutter as part of their New Year's resolutions. Make sure to check weekly as inventory moves fast.
Yard sales, moving sales, estate sales, and buy and sell websites like Facebook Marketplace and craigslist, are also filled with furniture finds throughout the year. Be mindful of the safety practices sites like craigslist advise, including meeting in a public place and not inviting sellers to your home, even if they're willing to bring the furniture to you.
Don't miss your chance to score a deal that really delivers.
Source: The Balance